Revolutionizing Hospital Care through Innovative Collaborations and In-Home Services
By Luna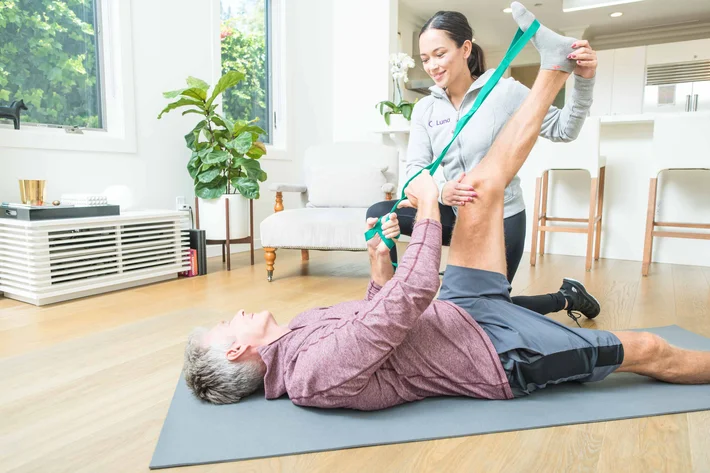 This article was originally published May 15, 2023 on Fierce Healthcare.
Introduction
The US healthcare system is facing serious challenges. Many hospitals are grappling with financial difficulties, with a large percentage operating at a loss. The American Hospital Association reports that 53% of hospitals in the U.S. are predicted to have negative margins in 2023, with some forecasts estimating this number could rise to 68% (source).
This financial turmoil is due to three main factors: staff shortages, rising labor and supply costs, and unstable supply chains. Hospital expenses increased by $135 billion in 2022 compared to the prior year, with labor costs accounting for $86 billion and non-labor expenses increasing by $49 billion. Additionally, inflation has caused the cost of supplies to surge.
The Imperative for Hospitals to Innovate through Unique Partnerships
Given the dire financial outlook for 2023, an increasing number of hospitals are reevaluating their approach to strategic partnerships.
In the past, hospitals primarily formed partnerships for the purpose of collaborating on physical facilities and onsite services. However, securing capital investment funds for such projects has become increasingly difficult. Consequently, hospitals are being pushed to explore pioneering models that enhance access and coverage, while aligning with patient preferences for treatment.
A particularly intriguing strategy involves expanding outpatient care services to patients' homes. This shift is motivated not by patients being homebound or immobilized, but by their preference for the convenience and safety of at-home care delivery. McKinsey predicts that up to $265 billion in care services, representing up to 25 percent of total care costs, will transition to home-based care by 2025 (source).
One notable example of innovation through partnership is outpatient physical therapy. Companies like Luna (www.getluna.com) provide hospitals with the technology and resources to efficiently deliver at-home care, thereby creating an attractive new service line for patients. Services such as outpatient physical therapy are highly suitable for at-home care, as 87% of cases treated at a facility can be adequately managed in the home (source).
In the US, there are roughly 38,000 physical therapy clinics (compared to only 16,000 Starbucks locations). These clinics often seek to attract hospital patients by capitalizing on their geographic and accessibility advantages. To remain competitive, hospitals must either invest in expanding their own facility locations, which can be cost-prohibitive, or adopt a delivery service like Luna.
Advantages of Implementing In-Home Care Models
Strategic partnerships that prioritize in-home healthcare are gaining popularity due to the numerous benefits they provide for hospitals:
Enhanced access and care capacity: Such partnerships can improve access to care and capacity, offering better geographic coverage for patients.

Capital efficiency: These services do not require capital investments in facilities and are viewed by patients as more appealing care options, thus providing a competitive edge against local rival clinics.

Leakage reduction: All hospitals face outflow, and outpatient physical therapy referral leakage is a significant issue, with the average healthcare system experiencing a 55%+ PT referral leakage rate. The financial ramifications are substantial, with an estimated loss of $20 million for every 10,000 patients leaving the system (source).

Improved adherence, outcomes, and patient satisfaction: Partnerships like these enhance patient engagement, satisfaction, adherence, convenience, and access to care, ultimately leading to better continuity of care.
During the pandemic, patients widely adopted virtual services; however, as the pandemic has waned, interest in virtual-only services has decreased. This trend is particularly evident in fields such as physical therapy, where hands-on, in-person care is now viewed as a significantly more attractive option.
Moreover, by leveraging outpatient physical therapy at home instead of traditional home health services, hospitals can reduce post-surgical rehabilitation costs, resulting in an average savings of $2,600 per case. This benefit is most compelling when the hospital bears the cost of care, such as in a Total Joint Replacement (TJR) bundle program.
Luna has successfully partnered with esteemed hospitals like Emory Healthcare, UCLA Health, MedStar Health, Providence Health, Intermountain Healthcare, Scripps Health, and more. These alliances facilitate in-person, in-home physical therapy, providing patients with an alternative to seeking care at community-based clinics.
"Scripps is constantly exploring innovative ways to improve our care delivery. Collaborating with Luna for at-home outpatient care broadens our access and reach across our market," says Lisa Risser, Corporate SVP, Ancillary Operations at Scripps Health.
Crucial Elements for Luna's Hospital Partnerships Success
In-home, in-person care partnerships are particularly effective in certain fields, including physical therapy, and Luna has emerged as the preferred partner for the nation's most reputable hospitals for several reasons.
Patient retention: Hospitals can effectively maintain their patient base without losing them to community-based clinics, especially when their own rehabilitation facilities are at capacity or located too far for patients' convenience. Retention not only promotes continuity of care but also generates a new revenue stream for the hospital.

No additional strain on existing staff: Luna's model alleviates the need to burden current hospital clinicians with extra responsibilities. Instead, Luna provides its physical therapist care capacity on behalf of the hospital. Furthermore, Luna utilizes its extensive network of therapists to deliver care across the entire metropolitan region where the hospital operates, maintaining a roster of 200-300 therapists in a metropolitan area to ensure high service reliability and efficient drive times.

Maintaining facility-based volumes: Implementing a new service should focus on expanding the patient base, not reducing in-clinic activity.
Luna has successfully tackled potential barriers and requirements for successful partnerships, including proving itself as a reliable partner capable of scaling the service, seamlessly integrating its clinical processes and protocols, and utilizing its technology platforms to ensure efficient care delivery.
Dr. Boden, Vice President of Business Development and Chair of the Orthopaedic Department at Emory Healthcare, says, "By offering our patients the option to visit one of our physical therapy offices (if it's convenient for them) or to have the option of receiving physical therapy at home, we provide another opportunity when it's not practical for them to come in multiple times a week to one of our therapy clinics. It allows us to have a better continuum of care with a larger number of patients that we otherwise wouldn't have reached when it came to rehab."
Insights from Luna's Strategic Partnership Approach
With over half of hospitals projected to face negative margins in 2023, it is crucial for hospitals to adapt and innovate their care delivery by partnering with pioneering organizations like Luna. Hospitals can glean numerous insights from Luna's strategic partnership approach:
Collaborate with top-tier platforms like Luna for cutting-edge care: Partnerships with providers like Luna enable hospitals to introduce new home-based care delivery models without the need for capital investments in new facilities.

Patient choice and experience: By offering at-home care, hospitals meet patients' needs and grant them more choice in how they receive care.

Prioritize swift implementation: Hospitals should seek reliable partners with solutions that can be implemented rapidly, delivering value and enhancing patient care in a short timeframe.
Conclusion
The financial hardships faced by hospitals are a pressing issue, with more than half predicted to experience negative margins in 2023. To tackle these challenges, hospitals must consider strategic partnerships to transform and advance their care models. Physical therapy collaborations, like those with Luna, improve access, lower costs, and increase patient satisfaction. These partnerships help hospitals navigate the difficult economic environment and continue providing quality care to their patients.