The PT License Process in Minnesota
By Luna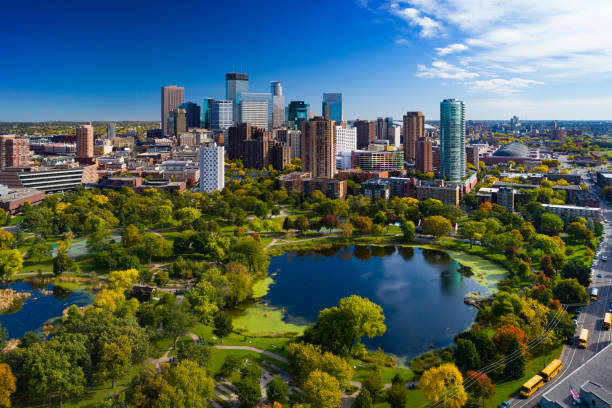 How do you get your PT license in Minnesota? It's worth researching since the median salary for a physical therapist in the state is just over $85k per year, with some making as much as $102k. Moreover, demand for physical therapists in Minnesota is projected to grow 18.4% from 2018 to 2028, with 310 PT job openings annually throughout the state. And since we're in the business of helping physical therapists grow their practice, we're sharing how to become licensed in the "Land of 10,000 Lakes". Here are the basic steps:
Step 1: Earn your Physical Therapy degree
Step 2: Apply for a license with The Minnesota Board of Physical Therapy
Step 3: Pass the required exam for Minnesota
Step 4: Maintain and renew your license
Let's get started!
Step 1: Earn your Physical Therapy degree
To become a licensed Physical Therapist in Minnesota, you must obtain a Doctor of Physical Therapy (DPT) degree from an accredited school. Schools must be accredited through CAPTE (Commission on Accreditation in Physical Therapy Education.) As of this writing, the current list of accredited schools in Minnesota are:
College of St Scholastica, Duluth, MN

Concordia University

, Saint Paul, MN

Mayo Clinic School of Health Sciences

, Rochester, MN

St. Catherine University

, Saint Paul, MN

University of Minnesota

, Minneapolis, MN
Before enrolling in a DPT program, you must first earn a bachelor's degree, ideally with a major in health sciences. A Doctor of Physical Therapy (DPT) program typically takes about three to four years to complete.
Step 2: Apply for a license with The Minnesota Board of Physical Therapy
The Minnesota Board of Physical Therapy is the organization that regulates the practice of physical therapy in Minnesota. Refer to their physical therapy licensing page for helpful information regarding the application process. Also, be sure to review the Board's Application Forms and Instructions before starting your application.
There are two ways to apply for your physical therapy license in Minnesota: online or via a written application. No matter the method you choose, you must have a social security number to apply. You must also have the following forms completed and mailed to the Board.
A notarized affidavit affixed with a 2x3 passport-type photograph printed on photo paper.
A Certification of Education, mailed by your school no more than 13 weeks before your graduation date.
Two recommendation forms, each mailed directly by the individuals who fill them out.
You may access all of these forms and the written application and instructions online. If you would like to submit your license application online, these are the instructions for doing so.
The Board also requires your official school transcript with your degree granted date clearly shown. Your transcript must be sent directly from your school to the Board office via secure email or in a sealed envelope.
Note that a Criminal Background Check (CBC) is also required for all applicants. Once you successfully submit your license application and pay the fees, a fingerprint information packet will be emailed to you. Your CBC is required for final licensure.
Step 3: Pass the required exam for Minnesota
To practice as a PT in Minnesota, you will need to pass the National Physical Therapy Exam (NPTE.) This exam is offered through the Federation of State Boards of Physical Therapy (FSBPT.) The NPTE exam is a multiple-choice test consisting of 250 questions. One of the best ways to prepare for the NPTE is by taking a practice exam. When you're ready to take the official exam, take note of the NPTE eligibility requirements as well as the key dates and deadlines. You may register and pay online for the test via FSBPT's Customer Dashboard.
Once you've registered for the exam, you'll receive an emailed Authorization to Test (ATT) letter from FSBPT (which is also available online on your Customer Dashboard.) Your ATT letter will direct you to contact Prometric to schedule a time to sit for the exam.
Step 4: Maintain and renew your license
All Minnesota PT licenses expire on December 31, so you must renew annually before January 1 of each year. Renewal reminders are mailed approximately 45 days before expiration. To avoid delays, be sure your correct address is on file with the Board. Also, be sure to review the renewal requirements before renewing online.
Note that to renew, you must take and pass the Minnesota Jurisprudence Exam. This is a test of Minnesota's laws and rules. To prepare for the exam, review the Minnesota Physical Therapy Practice Act. The Jurisprudence Exam is an open-book test and may be retaken as many times as necessary to pass.
Each licensed physical therapist must also complete at least 20 contact hours of continuing education (CE) credit every two years to renew their license. Newly licensed physical therapists start their two-year cycle on January 1, right after the date their license was granted. Continuing education credits may be accrued during the first partial year in addition to the two full years of licensure. You must be prepared to report the completion of CE to the Board at renewal time. Keep documented proof of your CE in the event you're audited.
These are the main steps required for obtaining and keeping your physical therapy license in Minnesota. For additional support, we recommend you contact APTA Minnesota, the state chapter of The American Physical Therapy Association. The organization is an excellent resource for all PTs in the state. From all of us at Luna, we wish you the best of luck. Remember – we're always hiring and would love you to join our team.