2018 State of Rehab Summary
Breaking Down WebPT's 2018 Industry Report
By Lily Beltran

What Physical Therapists Need to Know
In a field that is as dynamic as physical therapy, it can be very important to be in tune with the trends that continue to shape our field. Taking data from WebPT's State of Rehab Summary, we break down some important points for you to potentially take with you as you continue your journey through this industry.
Demographics - Female PT's Still Underrepresented in Executive Positions

One large take away was the overall trend that, while female therapists constitute about 70% of the therapist population, females represent 9% less of the management positions. As Bridget Finley, a physical therapist, says, "I am encouraged to see and meet more and more women in leadership positions in private practice. I want to encourage women to step up and ask for what they want and not self-limit. When fear limits our actions, that is when we need to remember what we do and allow our passion to overcome our fear. When we do that, all things are possible." At Luna, all of our therapists are treated as equals.
Challenges of Turning a Profit in Private Practice
54% of all practices are outpatient private practices and many have been around for 11 years or more. When it comes to billing, practices on the West Coast showed the lowest billed amount, but with high reimbursement rates. The East Coast had higher billed amounts and higher reimbursement. When billing is outsourced to an independent party, higher percentages of the billed amount was collected.
Issues with Growing a Private Practice
Generally, as practices become larger, they concurrently become harder to scale. Patient outcomes for practices with gross revenue under $250k a year were generally better. There's an inverse ratio in patient outcomes as the practice increases its amount of providers. This goes hand in hand with the tenant that the bigger the practice, the less likely executives were to be aware of the details of how their patients' courses of care are going. As Scott Herbert summarizes, "As practices get larger, it becomes harder to control for course of care completion, and it gets harder to standardize care patterns and administrative processes that can help minimize patient dropout. This is what makes a patient relationship management system so critical for enterprise." The authors of the article state that we need to, "Take a proactive approach to patient engagement and retention—thus giving ourselves and our patients the opportunity to achieve the best possible outcomes." When we strive for better patient outcomes, the more opportunities private practices will have available to grow their business.
Low Levels of Proactive Marketing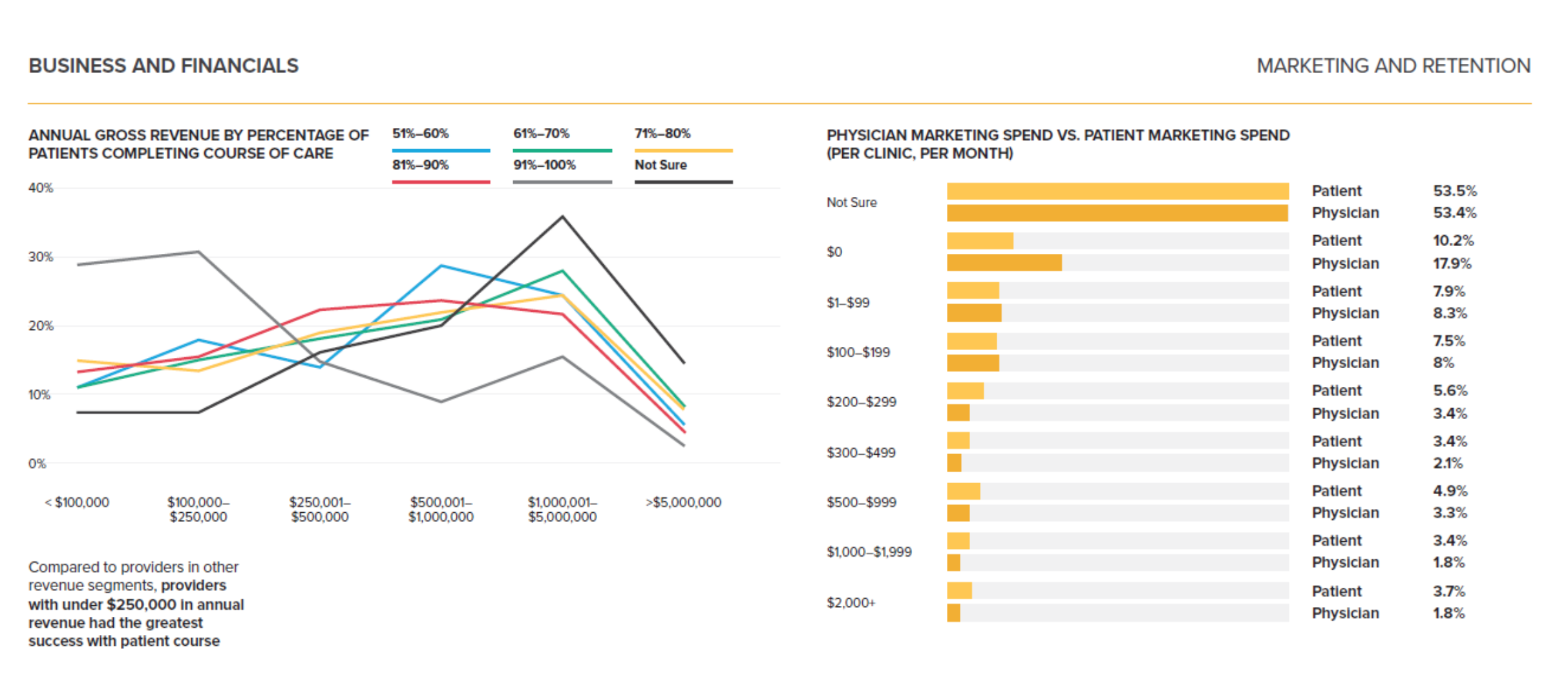 It was also shown that all practices generally do a sub-optimal level of marketing, with only 0.01-5% of gross revenue spent on marketing. The authors conclude that a thriving private practice requires time and resources dedicated to creating intelligent, forward-thinking marketing programs that reach both patients and referring providers. With a special emphasis on proving our value so we can better tap into a niche markets of special issues, gathering the data necessary to prove our efficacy as first-line providers for patients with neuromusculoskeletal issues.
Salaries - Female Pay Discrepancies and Salary Caps
The average annual salary for physical therapists is between $60-$80k a year, with males, on average, making more than females. Heidi Jannenga, the founding PT behind WebPT, addresses the sociological factors behind this glaring issue, "Gender bias, lack of confidence, and weak negotiation skills remain as the main factors contributing to this pay gap. We must continue to address this disparity and educate those in leadership positions to eliminate bias and empower more equality in hiring and promotion practices."
Many therapists cap out at a certain income level, and it becomes very hard to continue financial growth as you gain more experience as a therapist. Generally, therapists top out at around $80k treating patients or continue into administrative work and top out at around $100k a year. At Luna, we have eliminated this overt gender bias and ensure females are paid the same as our male therapists. You can also make as much money as you'd like, without giving up on actually treating patients.
Other Opportunities
Over half of all physical therapy graduates will leave college more than $70k in debt, with 1 in 4 therapists having $100k-$150k of debt upon graduation. As WebPT points out, "With an annual salary of $70k, a rehab therapist owing $100k on a student loan with an interest rate of 5% will take nearly 45 years to be free of student debt." Take-home pay does not match the initial salaries listed for a large amount of the therapist population. That's why it's so important to maximize your earning potential with Luna, with competitive rates which can expedite the loan repayment process.
"With the debt-to-earnings ratio increasing, physical therapists will likely start looking for alternative sources of income. This may cause an increase in professional drop-out rates over time," says Brett Kestenbaum, a physical therapist cited in the report. This can be a huge loss to the healthcare industry as therapists are pushed for more administrative work and rising debt upon graduation. Despite the industry issues at hand...
There is a large amount of optimism for the profession, with 60% of physical therapists still recommending others to this career field.
The field of physical therapy carries an immense amount of meaning for many of its clinicians and that can be a major source of empowerment. Together, let's revolutionize the field of physical therapy, one patient at a time. We look forward to next year's report!