Get to Know Our Therapists: Dr. Suren Meliksetyan, DPT, OCS, SCS, CSCS
Meet Dr. Meliksetyan: a double board-certified physio headed to the 2020 Olympics to provide sports medicine coverage for the Armenian National Team
By Lily Beltran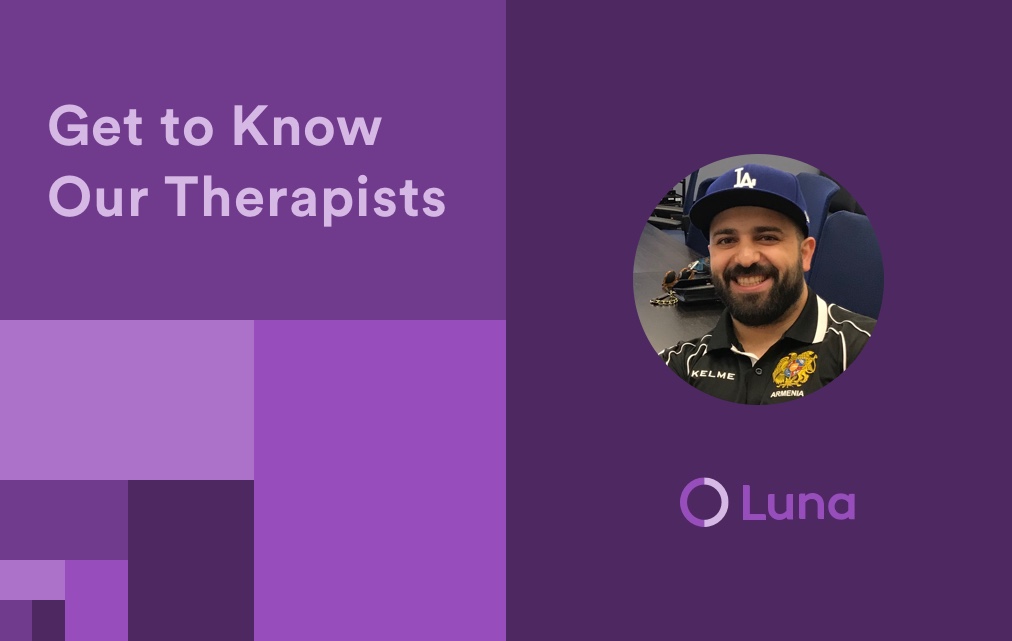 Tell us a little about yourself. Where are you from, and what do you like to do for fun?
I was born in Yerevan, Armenia. At 10 years old, my family and I moved to the United States after winning the green card lottery (also known as the diversity immigrant visa program). We settled in Glendale, CA, and I have been living out here for the past 19 years, along with my two roommates - my beautiful mother and gorgeous sister. As far as hobbies go, I like to stay active. I currently play in a competitive Armenian adult basketball league. Actually, I will be traveling this August to Armenia to play in the Pan-Armenian Games (Armenian Olympic Games held every 4 years in Yerevan, Armenia) representing the city of Burbank, CA. Other things I like to do actively are hiking and lifting weights at the gym. Furthermore, I play chess when I would like to stimulate my brain cells every now and then. I am a huge foodie: favorite cuisine is easily Mexican food (specifically this little place called El Sauz in Glendale - a must try!!!)
What inspired you to become a physical therapist?
From a young age, I knew I wanted to be a doctor. I was also very active and into sports. As I grew as an athlete, I experienced several sports-related injuries. My interest in the PT profession actually began as a patient! Later in life, I found physical therapy compelling for a few other reasons. I liked that it went beyond simply prescribing a "pill for the ill." It was much more of a hands-on remedy, both physically and psychologically. I felt I could have a more effective, positive impact helping people get well in that line of work. Hence, half way through undergrad I switched from majoring in Biology to Kinesiology and decided to pursue a DPT vs a MD or DO degree, and have not looked back ever since! I graduated from CSUN with a B.S. in Kinesiology and Exercise Science in 2012, and became a Certified Strength and Conditioning Specialist (CSCS) in the same year upon graduation. In 2015 I obtained my Doctorate in Physical Therapy (DPT) from Mount Saint Mary's University and became a licensed physical therapist in the state of CA thereafter. From there, I completed the prestigious Orthopedic Residency at Kaiser Permanente graduating in 2017 and also becoming board-certified in Orthopedics (OCS). Lastly, I finalized my postdoctoral training by completing the one-of-its-kind Movement System and Sports Performance Fellowship at Azusa Pacific University in 2019 having the honor and privilege of being mentored by some of the heavy hitters in the field today in the forms of Dr. Clare Frank and Dr. Kathy Kumagai Shimamura. And just a couple of days ago, I found that I have successfully passed and have been board-certified in Sports Medicine (SCS) as well, which makes me one of 504 out of 230,000 PT's in the nation with that specific dual board-certification according to the ABPTS.
What do you find most rewarding in your line of work?
I love that, every day, I get to make a positive impact in my patient's lives in a very unique way that no other health profession out there can really provide. Having the knowledge and the tools to figure out and treat the pathoanatomical tissue source is so vital in the orthopedic realm, but what is even more of importance is having the right eye to identify the contributing faulty postural habits or movement patterns (pathokinesiology).This is what really separates us from all other health professions - being able to take ownership of the Movement System. Moreover, helping people avoid getting hooked on medications, preventing unnecessary surgeries/procedures, and getting back to living life on their terms is as awesome as it is rewarding. People always tell me to take breaks and go on vacation. Well vacations for me are in the form of traveling to Armenia every summer and providing pro-bono services by working in the hospitals, military clinics, teaching in the medical schools, and working with the Olympians at the Olympic training center.
In your opinion, what is the greatest challenge of being a physical therapist, and how do you overcome it?
I think the biggest challenge is keeping the emotional attachment to a patient's pain and problems in check. I find that if I harbor too much of it, it can have a negative impact on my mental health, which does none of us any good. So, at the end of the day, once my work is done, I'll do my best to leave it all behind. I'll go to the gym, hike, or play basketball to unwind any stress. Being active, along with eating my favorite foods, listening to music, taking power naps, and most importantly spending quality time with family and friends have all been good remedies.
How did you learn about Luna?
I was out for dinner with a close friend/colleague of mine from my other job. He mentioned that he signed up for Luna and that it was working out well for him. From what he described, it sounded like a great way to get into the concierge physical therapy world, which was already something I was considering getting into. After my friend spoke so highly of it, it seemed like a no-brainer to give it a try. I signed up and started about 2 months ago. It's been an outstanding experience for me thus far. I've taken on quite a few Luna patients already, and their progress has been remarkable.
How does working in the Luna network enable you to do your work and live your life?
For me, it's autonomy. It's wonderful to have the ability to build my own schedule and choose the areas in which I want to work. I also get to spend more quality, one-on-one time with my patients, and I get to see them with more frequency as needed. And not to mention the importance of continuity of care provided by the same therapist versus having to see for instance 5 different PTs or PTAs in 5 different visits. My clinical outcomes as a result have been excellent with every single patient I have seen or am seeing with Luna, which is something I cannot confidently say about other places or settings I have worked in.
Do you have any favorite parts of the Luna platform?
Yes, I really like the Auto-Charting feature. Once I got the hang of it, I found it to be a huge time-saver. Now I can put my AirPods in my ears and do all my "charting" while I am stuck in LA traffic. Additionally, I like that everything is handled through the app. The concierge team has been fantastic, and that is an understatement! I find them to be incredibly responsive and agile whenever I reach out to them. Their help inspires me to work that much harder.