Get to Know Our Therapists: Sarina Majmundar
Meet Sarina: A Luna therapist based in CA who was destined to join our team of PTs.
By Luna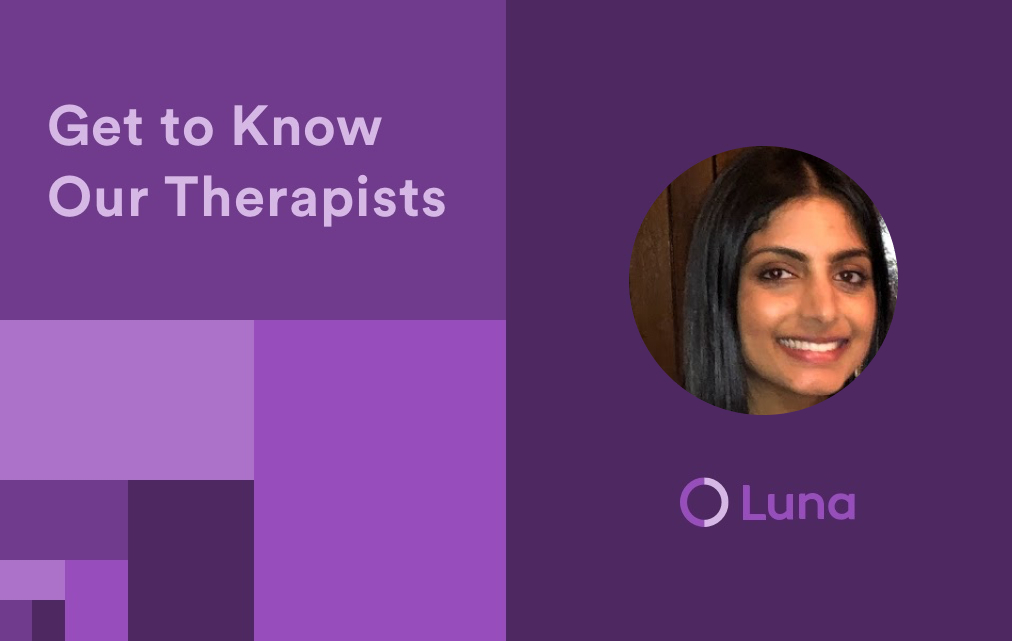 Do you believe in destiny? We do -- especially after we sat down and chatted with Sarina Majmundar, one of our new Luna physical therapists. She's a happy-go-lucky and engaging young lady. Her excellent education and super-cheerful attitude are assets that help her provide stellar care to her patients. Let's learn a little more about her and how she was destined to become a part of the Luna team.
"Decisions determine destiny"
Sarina was born and raised in the Bay Area of San Francisco. She was very active growing up, playing soccer, running track, and enjoying Indian dance. She experienced a few sports-related injuries when she was young, which is how she got introduced to physical therapy (on the receiving end, that is.) She was involved in healthcare as a teen through volunteer work at her local Kaiser office. While her role was mostly administrative, she still witnessed how the doctors interacted with their patients. That first-hand experience drew her to rehabilitation, mostly because she admired the one-on-one interactions. For her undergraduate studies, she went to Ohio State, where she got her Bachelor's in Human Development and Family Science. That's fancy terminology for studies in psychology and human interaction -- knowledge that gives her a unique advantage in physical therapy. After graduating from Ohio State, Sarina went to the University of St. Augustine for Health Sciences in San Marcos, California. There, she obtained her Doctorate in Physical Therapy. And get this -- Sarina's mom is a nurse, and her dad is a software engineer. It's like she was literally born to treat and care for people in a cool, 'techy' way. And now, here she is providing top-notch, on-demand physical therapy through Luna! There's no doubt -- it was destiny.
What Sarina thinks about Luna
"Genius." That was Sarina's one-word descriptor for Luna. She went on to describe it as "The Uber of PT." Having grown up in the tech world, she greatly admires Luna's innovative technology as well as how the company is operated -- especially from the communication and organization standpoints. She finds it extremely efficient and convenient. The app saves her tons of time, and the Concierge service is readily available to answer all of her questions quickly. With Luna, she can conduct PT in new and better ways, translating to even better care for her patients.
...and better care is what it's all about, according to Sarina
What Sarina finds most rewarding in her work is watching her patients make amazing progress. For her, it's incredible to see each patient celebrate milestones and goals that they never thought they'd achieve...things like going up and down the stairs or walking around the block. What's more, Sarina loves spending quality time with her patients. She enjoys getting to know them beyond their diagnosis and has gained many friends from her therapy sessions.
Sarina's most challenging and rewarding patient stories
Sarina already has tons of excellent PT experience under her belt, and it shows. Here are two that stand out:
The most challenging patient case - While on clinical rotation in Salt Lake City, Sarina had a patient with a seizure disorder and multiple chronic conditions. This patient's conditions significantly increased the complexity of managing her physical therapy. Why? Because there was no way to know when she might have a seizure. Sarina had to be extremely cautious, thoughtful, and strategic in providing care for this special patient. She conducted shorter PT sessions while ensuring that the patient was always comfortable and in a safe environment. Despite all the challenges, this patient's function and physical abilities improved with Sarina's customized therapy regimen.

The most rewarding patient case - Speaking of challenges, everyone has been challenged in one way or another from the pandemic. There was one patient of Sarina's who had been an avid runner. He sustained a severe ankle injury in early 2020, which required lots of physical therapy for proper healing. With the pandemic, the only way he was able to get PT was from home via Zoom. He was depressed about the coronavirus, being stuck at home, and his inability to run, much less walk like normal. Lucky for him, he got Sarina to help. She religiously conducted PT exercises with him via Zoom, once a week for eight weeks straight. Over time, both his physical abilities and demeanor improved -- how could it not with Sarina's always-positive attitude and cheerleading?! Within three months, this patient did a 180 -- from a frustrated, super-sad guy who could hardly walk, to a joyful, active, and energized man who could now run 12 miles. 12 miles! This patient's recovery continues to be one of Sarina's most rewarding. She was able to help him both physically and mentally, despite the challenge of providing 100% of his therapy online due to COVID-19. Now he's running half-marathons!
Fun facts about Sarina
Sarina is a runner too. She trains to run half-marathons and has successfully run three already. She also loves staying in shape and working out at the gym. Oddly, her family is convinced that she should have been born a boy! It's due to her tomboy tendencies. She adores sports and watches ESPN as much as humanly possible. She's huge into college and pro football. It's not a shocker to learn that her favorite teams are the Ohio State Buckeyes and the San Francisco 49ers. She loves playing fantasy football too. You might find her cooking in the kitchen while she's watching pro-sports on TV. Her culinary specialties? Healthy yet deliciously spicy Indian and Asian foods. She loves trying new recipes. One more fun fact -- all of her siblings are in healthcare. One is an optometrist, and the other is a dentist. Her little brother is changing it up though, as he's thinking about becoming a lawyer. That's quite the family!
Sarina's PT specialties
Sarina happily offers physical therapy for all types of conditions, but she most enjoys working with orthopedic and post-operative patients, especially young or elderly.
If you're in the Bay Area and in need of physical therapy, who knows -- you may be destined to meet Sarina. There's a famous quote by C.S. Lewis, "Decisions determine destiny." If you're ready to determine your destiny, then your decision is easy. Contact us today to schedule your physical therapy. You'll be glad you did.