Get to Know the Team: Jane Higgins, Senior Talent Acquisition Specialist at Luna
By Luna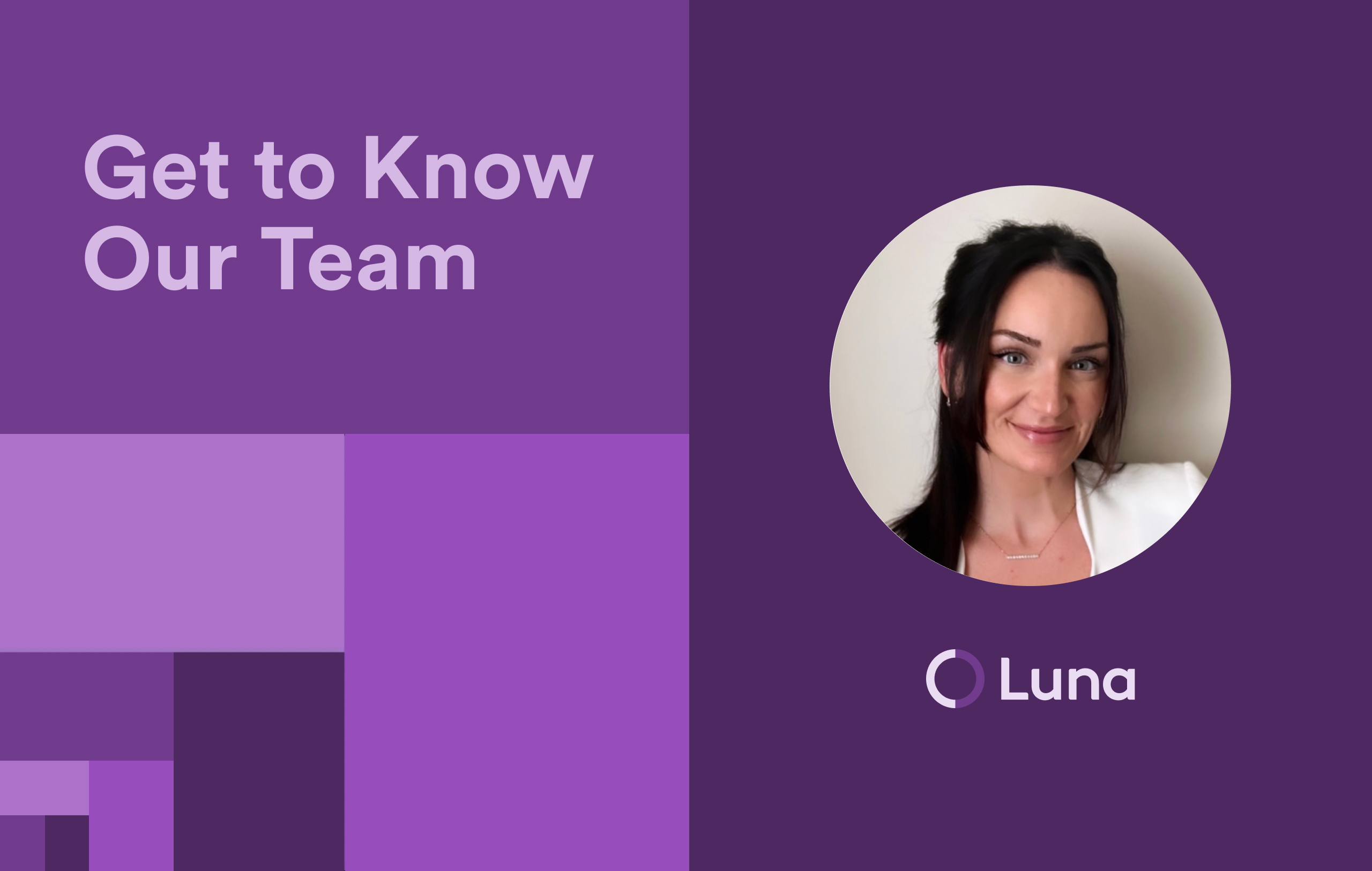 We recently chatted with Jane Higgins, one of our top acquisition specialists at Luna. She's part of the team championing our extraordinary initiative of doubling our workforce in 2023 – a significant undertaking that she's excited to conquer. Let's learn more about her role, what drives her success, what she feels are the most compelling reasons people love working at Luna and more.
Q: You've been at Luna for a few months now. What attracted you to the organization? Why did you want to work there?
I worked for my last employer for about seven years, so switching positions is something I don't take lightly. It's important to me that I align well with the organization, especially its goals and values. What attracted me to Luna was, first and foremost, the people. We have an amazing team of innovative, supportive, and solution-oriented people perfectly suited for growing and scaling the company. The second thing that attracted me to Luna was its mission. The company is bringing relief to physicians, clinicians, and patients by reimagining physical therapy through its cutting-edge technology. We are pushing the envelope of healthcare norms and dreaming of going beyond the confines of what was once innovative. It excites me to be a part of a company that's the first to do the next big thing in healthcare.
Q: Tell us more about your role and highlight some of the important work you do.
I feel lucky when I think about my career and role at Luna. I love working in recruitment, connecting with many different people, and helping them make meaningful career-oriented life decisions. On the other side of the spectrum, I'm also looking forward to hitting our goal of doubling Luna's workforce in 2023 by filling our open positions with exceptionally talented people that will add to our growing success.
Q: What do you feel are some of the main reasons people love working at Luna?
People love working here for many reasons, but I think our mission, the people, and the perks are the top three. Our mission of delivering high-quality, cost-effective physical therapy to patients in their homes is meaningful. We truly are changing how healthcare operates for patients, physicians, clinicians, and our employees too by putting ourselves in the shoes of all the end receivers. We don't shy away from things that appear difficult to achieve. Our people like to step up and embrace challenges because they like being a part of something that matters and makes a difference. And speaking of people, I have the unique opportunity to get an inside look into our employees before they are hired – and I know they will fit right in here. We call it the "Lunaverse" because it's our work family! Every day there's a lot of congratulating, well-wishing, welcoming, happy birthdays, and other goodwill touted across the entire organization. It shows that we like to stay connected and not lose sight of one another. Beyond that, of course, are the company perks. Luna is highly committed to making people feel good about their choice to work here. We offer flexible work schedules, paid time off, holidays, and other perks to help employees feel valued. Even better, we have the tools to provide an excellent experience for our employees and a clear path for their development.
Q: You're part of the Luna team tasked with doubling the workforce in 2023. What are the top reasons why candidates choose Luna over other employment opportunities?
Being in recruiting, I find that candidates have various motivators. When it comes to Luna, it's the opportunity to be part of something incredibly exciting and innovative. Luna is only four years old, so the growth ahead is thrilling. Considering our future growth, we have a lot of open positions that cater to all different interests and skill levels. I'm seeing more referrals coming our way too. Our employee referral program reinforces the fact that people love working here and want to get their friends, family, and former colleagues on board too. It's nice to see and quite the compliment for Luna.
Q: Considering that there's a shortage of workers in the healthcare industry, are there any special incentives being offered to encourage employment with Luna?
There are several tangible and intangible things. First, we provide a very modern approach to employment. We know that if we want the best people, we have to stay relevant and up-to-date with changes in the industry and society. Of course, we offer health insurance, paid time off, and a healthy list of paid holidays. Depending on the position, we also have accommodations for most openings to have either flexible or hybrid work schedules. We're also able to provide company stock options to most employees, which is great considering the company's growth potential. Once you're hired at Luna, there is also a bonus incentive for referring candidates to us, which is a nice way to boost your earning potential. Another encouraging factor is that Luna is beginning to step out of the start-up environment and move into a more established position within the healthcare tech industry. Stability and growth potential don't usually go hand-in-hand, but you can capitalize on that at Luna, especially if you're interested in fast-tracking your career.
Q: What are the best ways for potential candidates to learn more about job opportunities at Luna? And what's the best way to reach you if they want more details?
We have a brand new careers page coming soon on Luna's website, but in the meantime, our open positions are listed on Indeed and Luna's LinkedIn page. If anyone is interested in more information about job opportunities at our Rocklin office, I'm happy to connect via LinkedIn, or they can email me at jane@getluna.com.
Note: We are also actively hiring top-notch physical therapists, so if you are a PT, please see our clinical opportunities.