Healthcare Is Coming Home, and Luna Leads the Way
By Luna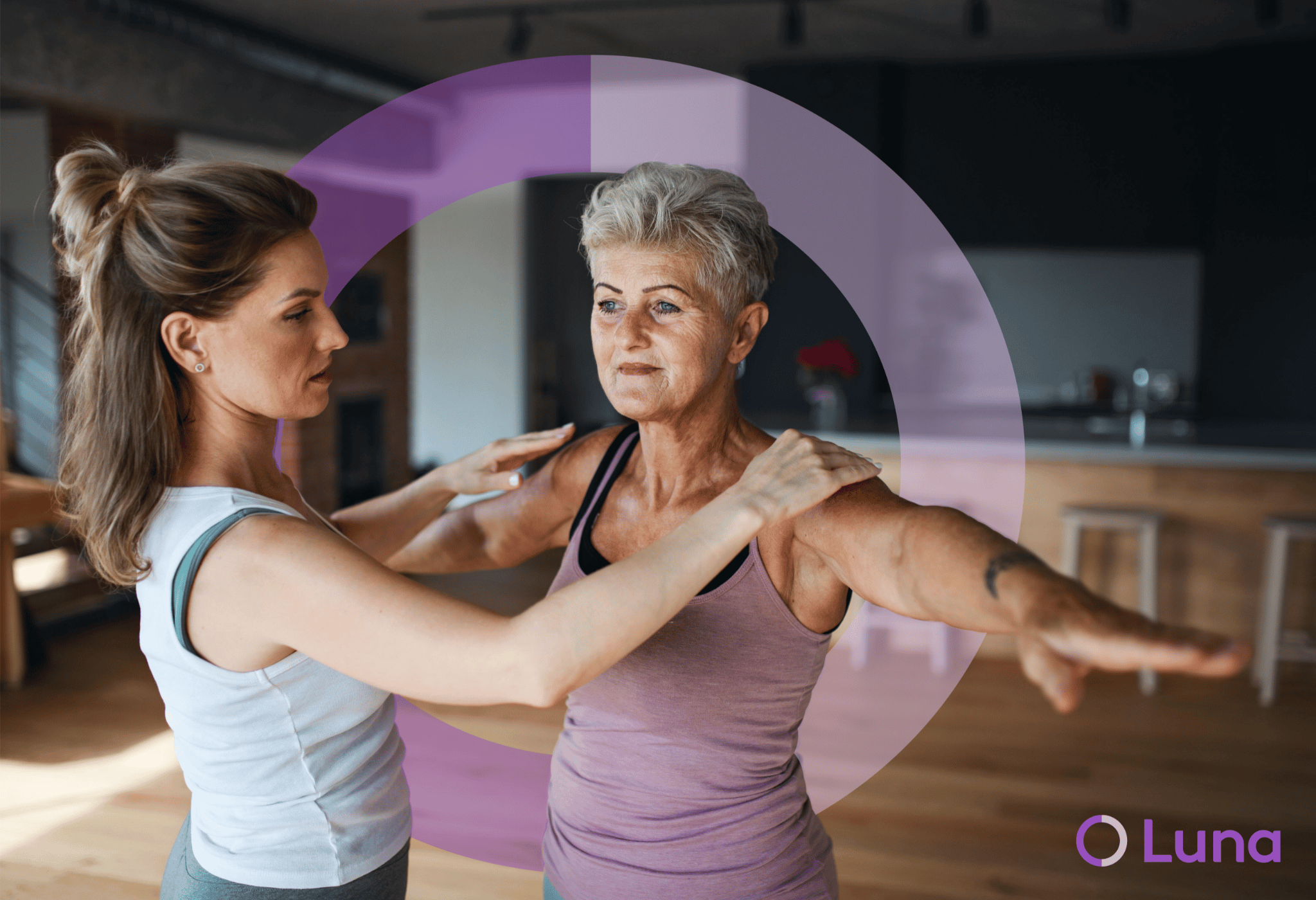 When it comes to healthcare today, most patients prefer to stay out of hospitals and other medical facilities in order to receive more effective and personalized care at home. Much like a doctor's house call from the 1950s, private, one-on-one home healthcare is making a comeback. The trend began in the 1990s and continues to accelerate, especially due to the pandemic.
In fact, home healthcare spending is expected to reach $201B by 2028, which reflects a whopping 73% increase from 2020. And by 2025, nearly 25% of our healthcare dollars will be spent on healthcare at home. It's not surprising, considering that on-demand services like DoorDash and Uber have become ubiquitous in all industries. But Luna saw the need for in-home physical therapy care early on. Here is why Luna leads the way and continues to be at the forefront of the industry:
Expanded access to care
Typically, physical therapy requires a long-awaited appointment at a clinic, which delays care. But with Luna, a board-certified physical therapist immediately provides services in the comfort of the patient's home. Luna saw the need to remove the barriers of time and transportation, making access to physical therapy easier for any patient to not only obtain but complete their entire course of care. Even better, today's new Direct Access laws allow patients to obtain physical therapy without a prescription. And patients aren't the only ones who benefit from expanded access. When clinics partner with Luna, they can provide care wherever their patients wish without having to build expensive, new brick-and-mortar facilities.
Better patient experience
With Luna, patients work with the same licensed therapist throughout their entire care regimen. Plus, Luna patients receive more one-on-one time with their therapist at home than they ever would in a clinical setting. That distraction-free time and personalized service create a better experience for the patient. Plus, Luna patients develop a closer rapport with their therapist, gain an improved understanding of their diagnosis, get more time dedicated to therapy, and are more comfortable overall since they're in the familiar surroundings of their home.
Improved adherence
When it comes to physical therapy, the average outpatient course of care is seven to ten sessions, and it takes nearly six weeks to complete. Unfortunately, 70% of patients don't finish their entire course of care at a physical therapy clinic. In-home physical therapy, however, increases adherence to the program. People respond better in their natural environment and are more compliant with their care plans. Plus, it's tough to cancel PT when the patient is already home. Furthermore, Luna patients can use the easy-to-use platform to set their next appointment, perform therapist-prescribed exercises, and track their progress -- all of which encourage adherence to their custom PT program.
It's cost-effective, especially for seniors
The need for physical therapists is rising quickly, driven mainly by the demand for rehabilitative services for our aging population. The baby boomer demographic requires more healthcare services, and if given the option, they prefer to receive healthcare at home. Also, they'll progressively shift to more in-home healthcare because it's more affordable than inpatient hospitals, nursing homes, and other types of care facilities. Fortunately, Medicare covers the majority of the cost of physical therapy sessions with Luna. And those with Medicare and secondary insurance coverage pay no out-of-pocket expenses for their in-home physical therapy. Of course, it helps that Luna was designated as an "Exceptional" provider by the Medicare/CMS, which is the highest level of achievement possible in that category.
It's custom-tailored for the patient
Physical therapists learn more about their patients by seeing them in their home environment than they ever would in an exam room. They can identify important clues in the home's surroundings, making for better, more custom-tailored treatment plans. For example, a PT could conduct an ergonomic assessment of a patient's workspace and offer advice for better solutions. Or therapists specializing in eldercare can help prevent falls by identifying and eliminating potential risks and other hazards in the patient's home. And if a patient needs to walk to the mailbox or use a staircase, then a therapist can focus on those specific things. This type of personalization is invaluable for patient recovery.
It's a better option for everyone
Hospitals are at or near capacity due to the pandemic, flu, RSV, and other ailments. Plus, continued staff shortages at all medical facilities strain the entire system. As a result, home healthcare, especially in-home physical therapy, provides a better option for younger people and those without chronic conditions. In fact, PT is no longer just for those recovering from an illness, injury, or surgery. Now, it's increasingly utilized as a preventative course of action. For instance, physical therapists often help athletes learn exercises and movements that prevent injuries. Preventative physical therapy is also helpful for older generations since it helps them gain strength and improve balance, both of which help prevent falls.
Our innovative model of convenient in-home physical therapy has proven itself. It works so well that Luna has become the fastest-growing physical therapy 'clinic' nationally, with 6,183% growth in visits during the four consecutive years since its founding in 2018. That's higher than any PT clinic group's reported growth during the same time frame.

"We are at this edge of revolution, and in the next few years, I believe we're going to see the at-home care market explode," says Palak Shah, head of clinical services at Luna. In-home physical therapy is an optimal experience – one that most people now prefer. Will you be the next to join the revolution? Choose a better way and give Luna a try today.