My Physical Therapy Journey with Sword Health and Luna
By Luna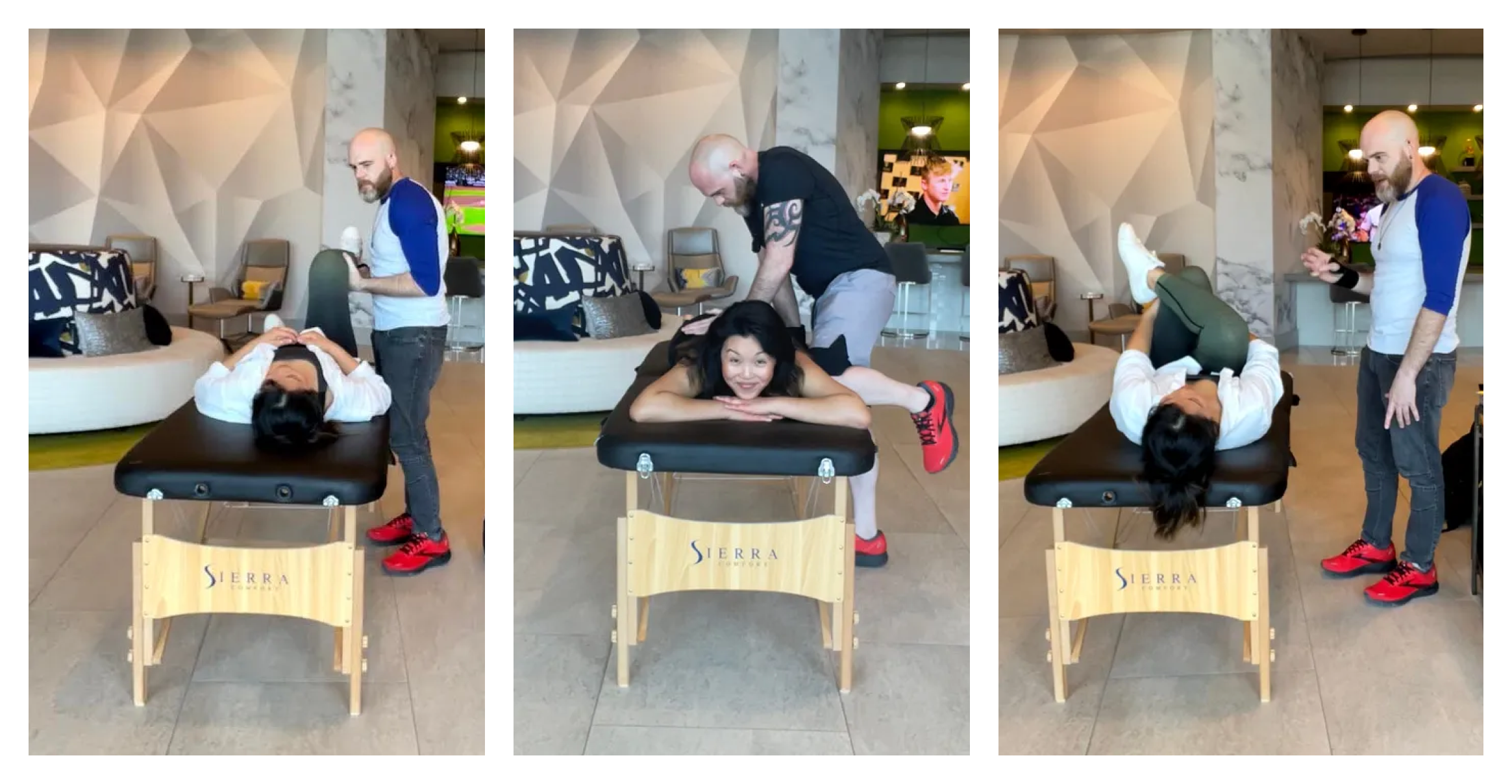 Today, we want to say thank you to Thuy Pham, for writing a thoughtful and insightful review of her experience as a Luna patient. We are so grateful that she has allowed us to share her story with the world. It is a testament to the transformative power of physical therapy and the unwavering dedication of our therapist team. Join us as we delve into Thuy's physical therapy journey and explore how Luna has become her preferred solution for achieving optimal health.
This article was originally published by Thuy Pham on May 31, 2023.
Why I Needed PT
Having dedicated thirteen wonderful years as a full-time health care worker in dialysis, while also being a devoted mom, I've come to realize how this commitment can sometimes be tough on my lower back and extremities. My work in healthcare has not only been rewarding, but it has also taught me how important physical therapy and regular movement can be in our lives, impacting our long-term wellbeing.
Physical therapy is a vital part of the healing process for patients with diverse medical conditions, injuries, or post-surgery needs. But the truth is, many of us often overlook the need for it — and I was one of those people! I finally realized that I needed guidance that fit my pace and lifestyle, and this is when virtual therapy seemed like an exciting start!
Like most of us at the beginning of a new year, I set out with the familiar goal to establish a suitable fitness routine that could mesh well with my hectic schedule. The idea of squeezing in a gym or clinic visit amid my long work hours was overwhelming. This is why I decided to explore the virtual / remote Sword Health Program, generously provided by my health insurance. I was hopeful that it would help alleviate my pain, and the fact that this program was included in my insurance plan was a delightful bonus!
Trying Sword Health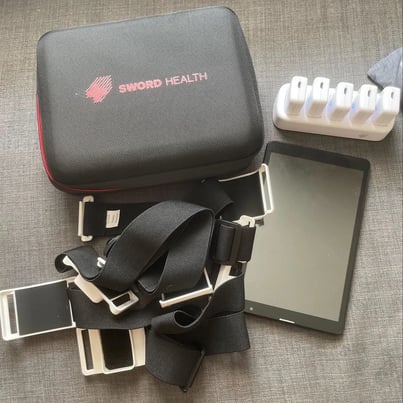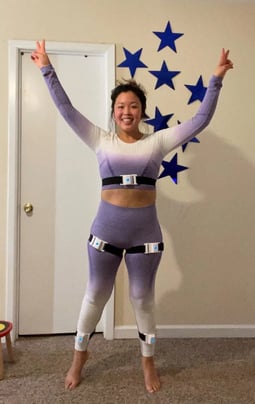 The initiation process was simple — contact Sword Health, set up a virtual consultation, and be paired with a Sword Health physical therapist. The Sword Kit arrived the same week I completed my assessment, and the setup was pretty straightforward.
I downloaded the Sword App to facilitate communication with my physical therapist and access other useful tools and videos for pain relief. However, as helpful as it was, I couldn't help but notice some areas where it fell short.
In the first week, I was full of enthusiasm and ready to start my new journey. The sessions usually lasted 18–25 minutes — sometimes I craved for more, other times I wished for less. Strapping on the equipment wasn't too bad, but I'm not sure my Mom or Dad would want to do all that if they needed care. That said, keeping up the initial motivation was more of a challenge than I expected.
I did see some improvements in the initial sessions. But as life got busier, my energy and motivation dwindled, and I lacked a fixed schedule. It was too easy to "manipulate" the workout on days when I was tired, and occasional technical glitches with the calibration added to my frustrations. At least the physical therapist was just a chat box away, ready to discuss treatment plans and adjust sessions.
The convenience of having a virtual therapist is undeniable, especially when you're on the go. Sword Health even tries to boost your spirits during workouts by awarding virtual stars — as a gamer, I enjoyed this. It felt like playing a Wii workout.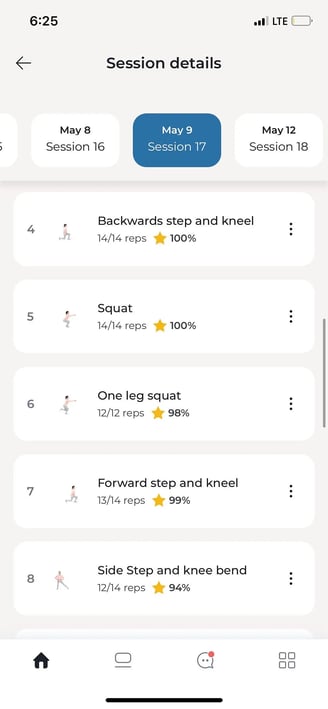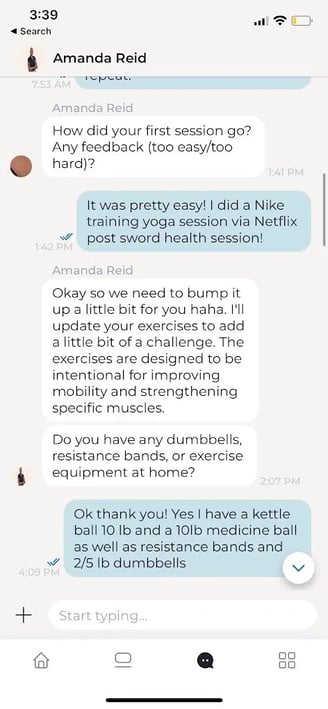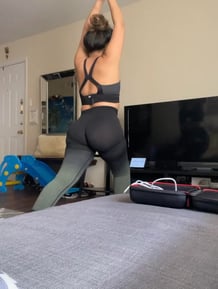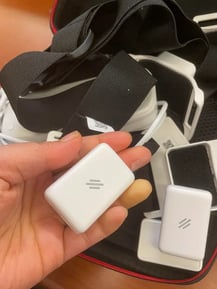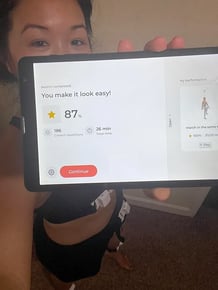 Despite the virtual rewards, I found it increasingly difficult to motivate myself to put on the equipment. I needed more than just a virtual therapist — I needed a physical therapist who could provide tangible accountability. And that's why I decided to switch to Luna.
While Sword Health offered a degree of convenience, it had its limitations, emphasizing the need for a more complete solution. It may work for some, but in my case, I found it necessary to pair it with a real-life physical therapist to make the most out of my physical therapy sessions.
Thanks to advances in technology, virtual therapy has become a viable option for those seeking help for physical or psychological ailments. While virtual therapy can be almost as effective as real therapy in terms of treatment and care, it comes with its own unique set of advantages and disadvantages. I wanted to make a proper decision in the choice of physical therapy that worked for me and I heard about Luna and wanted to see if it would work better for me.
Shifting Over to Luna Physical Therapy
There are several key features about Luna that I instantly fell in love with. First and foremost, they are in network with most major insurance companies such as Anthem, Blue Cross Blue Shield, Cigna, Humana, and more. This was fantastic news for me because my insurance company happens to be on that list. However, even if your insurance isn't applicable, Luna offers a simple flat pay rate, making it convenient for everyone.
One of the standout features for me is their availability. Luna provides morning and evening appointments seven days a week, from 6:30 am to 8:30 pm. This is a game-changer for someone like me who has a demanding work schedule and limited childcare options. The flexibility they offer is tremendous.
Another aspect that impressed me is their in-house visits. Yes, you read that right — they come to your home! This means I don't have to rush to an appointment or battle through traffic. It's a real win for me. But here's the best part: if having them come to my home isn't feasible due to my long work hours, they are even willing to visit me at my place of work! The convenience they provide is exceptional.
When I reached out to Luna and scheduled my initial evaluation, their customer service representative, Ashley, promptly gave me a call. She took the time to gather general information, discuss my reasons for seeking physical therapy, and understand my goals. Ashley was incredibly kind, knowledgeable, and easy to work with. Following our conversation, Luna emailed me an appointment confirmation, along with the name of my designated physical therapist and a patient intake form to fill out prior to my visit.
From their insurance coverage and flexible scheduling options to their willingness to come to me, so far, they have exceeded my expectations. The personalized care and attention I received from Ashley and the seamless booking process further solidified my confidence in their services. I'm looking forward to my first visit and continuing my journey towards improved physical well-being with Luna.
To enhance the experience, I recommend downloading the Luna App. By doing so, you'll have the opportunity to familiarize yourself with your assigned therapist and make use of the messaging feature. This will enable you to address any inquiries or concerns before your initial visit, as well as stay in touch throughout your entire journey with Luna.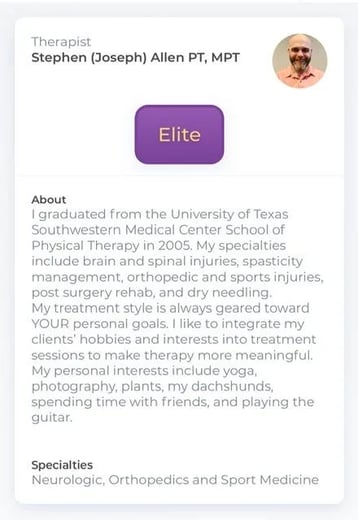 Once I opened the app, I was thrilled to discover that my therapist pairing was with Joseph! Upon reading his bio, I learned that he graduated from the University of Texas in 2005, and to my surprise, we share similar hobbies. The app also displays helpful features such as appointment reminders and a convenient chat box, allowing for seamless communication with your therapist.
First Session with Luna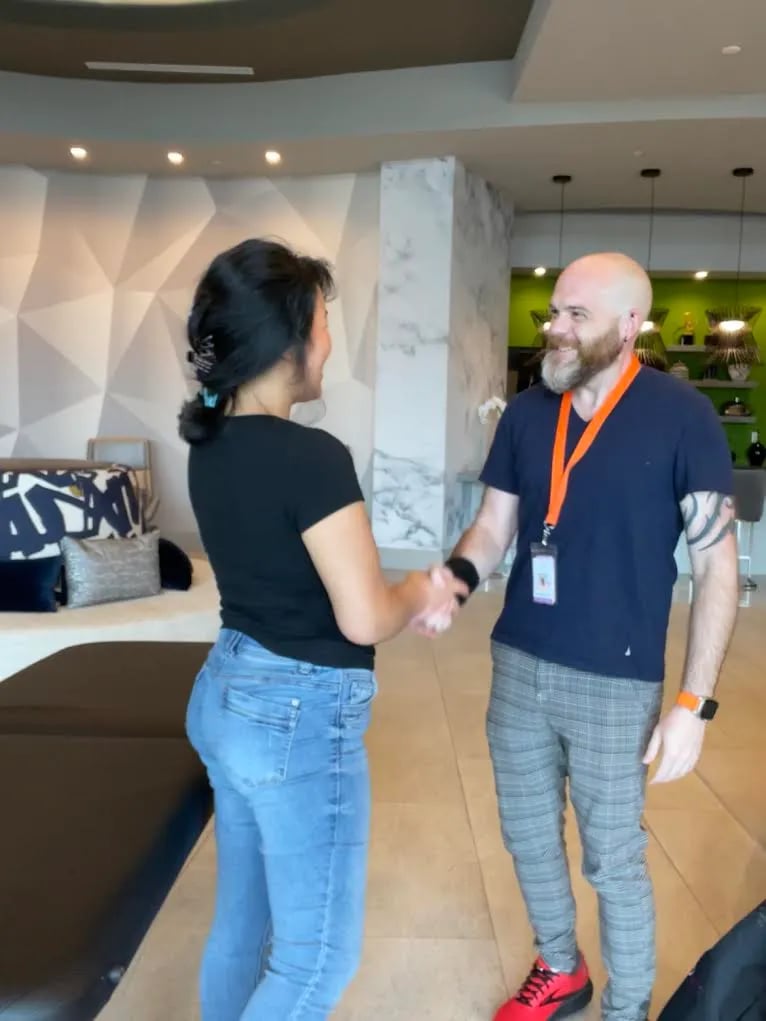 I was well prepared for my initial session. Their customer service ensured that all my questions were answered, and shortly after, I received an appointment reminder via email. They also provided a quick and simple patient intake form, which took me about 5 minutes to complete. This gave me a clear outlook on what to expect during the session:
Set aside two chairs for meeting with your therapist.

Identify a space where your therapist can set up a portable treatment table.

Wear comfortable clothes for ease of movement and access to your injured area.
I made sure to wear comfortable clothes, allowing for ease of movement and providing the therapist with easy access to the area that needed attention. This small detail made the entire experience more convenient and conducive to effective treatment.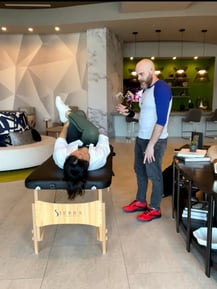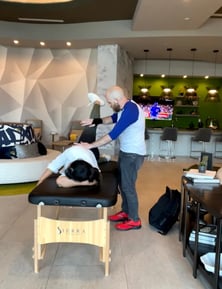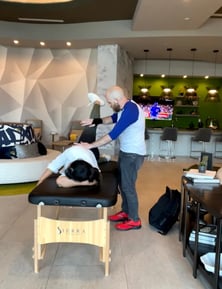 My excitement grew as the session started at my home. Right on schedule, Joseph, my physical therapist, walked in, ready to embark on our journey to recovery together. He exuded a perfect blend of expertise and approachability, instantly putting me at ease. It wasn't just a typical therapy session; it felt like a thoughtful consultation. We spent around 15 minutes discussing my areas of pain and discomfort, setting clear treatment goals. It was like mapping out a route to my recovery, with Joseph as the skilled navigator, guiding me every step of the way.
We began with some gentle stretches, which served as the perfect introduction to the world of physical therapy. It felt great to start the session with these exercises, knowing that they were carefully selected to benefit my specific needs. What's even better is that Joseph added these stretches and exercises to the Luna app, allowing me to practice them between our sessions. It's a fantastic way to stay engaged and actively participate in my own healing process.
As I reflect on this first session, I can't help but feel a sense of excitement. This is just the beginning of a journey towards a pain-free future, and I'm grateful to have Joseph and Luna supporting me every step of the way.
In Between Luna Sessions
During the downtime between my sessions with Joseph, I found myself frequently tapping on the Luna app icon and engaging in sessions throughout the day. It became a habit for me to complete at least 1–2 sessions daily. There's something truly captivating about this physical therapy app that sets it apart. It's not just about the fantastic stretching exercises it offers, but also the delightful reward that awaits at the end.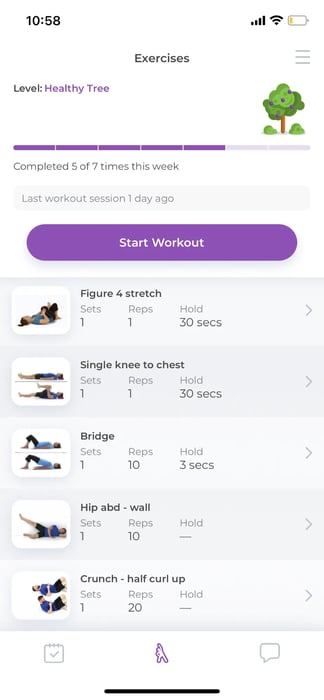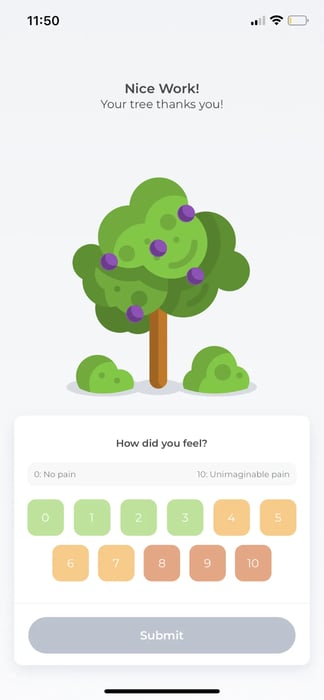 After wrapping up my stretches (which make a noticeable difference), the Luna app presents a charming visualization. Initially, you are depicted as a small seedling. However, as you diligently complete Luna exercises, the seedling gradually grows into a healthy tree and even produces fruit. Each stretch feels like a drop of water, nurturing the seeds of your very own digital forest. It's a wonderful surprise that adds a sprinkle of joy to the entire healing process. Not only is it encouraging, but it's also a relaxing and satisfying way to visually track your progress.
What's fascinating is that if you don't follow the care plan or neglect the exercises, your tree starts to wilt and loses its leaves. It serves as a gentle reminder to stay consistent and actively participate in your healing journey. How many apps do you know that simultaneously help alleviate physical pain and visually depict the growth of a tree? Luna does just that, and I absolutely love it.
The combination of effective therapy exercises and the symbolic growth of the tree creates a unique and engaging experience. It's a testament to Luna's commitment to not only improving physical well-being but also enhancing the overall journey towards wellness. With each session and the growth of my digital tree, I find myself more motivated and inspired to continue on this path of healing.
Ongoing Sessions with Luna
Each session with Joseph lasts for 45 minutes, and I must say, he arrives prepared and ready to tackle my lower back pain head-on. His dedication to helping me overcome this discomfort was truly commendable.
Joseph begins by focusing on my painful hotspots, delivering a carefully curated massage that instantly puts me at ease and provides immediate relief. It was incredible to witness his expertise in action. The simple application of pressure to my lower back yielded quick and effective results, which truly amazed me.
After the targeted massage, we moved on to some additional light stretching. Nothing too intense or overwhelming, just enough to loosen up my body and enhance flexibility. These stretches were a perfect way to wrap up the session, leaving me feeling more limber and revitalized.
As we concluded a session, Joseph and I had a brief discussion about our plans for the next phase of our journey together. He would add a few more stretches to my Luna app, ensuring that I could maintain the momentum and continue my progress between our sessions. It was reassuring to have these additional resources at my disposal.
Walking out of each session, I couldn't help but feel rejuvenated. The combination of the targeted massage, gentle stretching, and the clear plan for our future sessions filled me with a sense of optimism and renewed energy. I'm grateful to have Joseph as my therapist, guiding me on this journey towards a pain-free and healthier life.

More Sessions with Luna
As the sessions continued, Joseph and I had formed a friendship beyond the typical therapist-patient relationship. Our conversation flowed effortlessly, alternating between updates on our respective weeks and evaluating the progress of my back. The atmosphere was relaxed and comfortable.
We ventured into the realm of light massages and yoga poses, introducing a new dimension to our therapy routine. Let me tell you, it made a remarkable difference! Each movement, stretch, and breath brought tangible relief and healing. It felt like we had unlocked a hidden level in my journey to recovery. Before concluding these sessions, Joseph made sure to add all the yoga poses to our Luna app, ensuring I could continue practicing them.
This overall experience not only proved to be effective but also served as a testament to the unique bond that can be formed with an in-person therapist. It reminded me that while you can't build the same connection with a virtual tablet, the support and care of a dedicated physical therapist like Joseph can make a world of difference.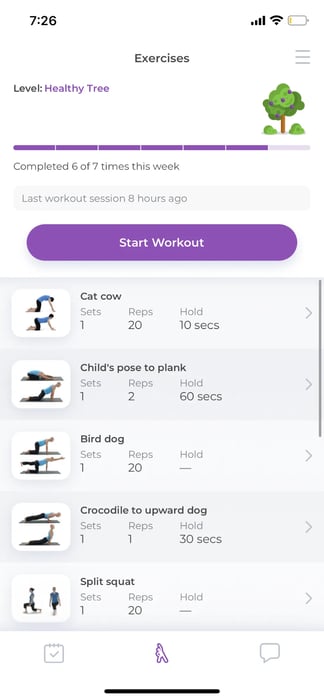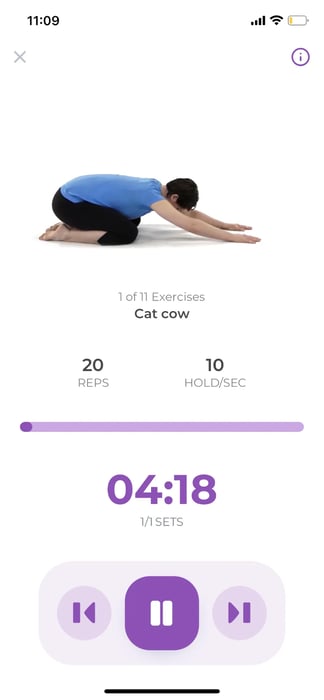 Comparing the Two Services and Final Thoughts
In my journey with physical therapy, I found that both Sword Health and Luna offered unique advantages tailored to different needs. Initially, I was drawn to Sword due to its convenience and the fact it was covered by my insurance. The program had an easy initiation process and provided an interactive experience with a virtual physical therapist. However, I found certain aspects challenging. Setting up the equipment was cumbersome, and over time, I struggled to maintain my motivation with this virtual-only approach. I also encountered occasional technical issues which affected my experience. Still, I valued the support I received from my virtual therapist and enjoyed the gamification aspects of the workouts.
On the other hand, Luna impressed me with its accessibility and flexibility. The service also worked with my insurance. One of Luna's standout features was its availability, offering appointments seven days a week, from morning till evening, which worked perfectly with my busy schedule. Their offer to provide in-house visits is a game-changer for me. I also found Luna's customer service to be impressive, which boosted my confidence in their services.
These experiences cemented my overall confidence in Luna. From their insurance coverage and flexible scheduling options to their in-home personalized care and ease of booking appointments, Luna outperformed my expectations. I'm feeling better and getting stronger. And I look forward to continuing my physical therapy sessions with Luna (and in the future too) and am optimistic about my journey ahead.