Thanks to Luna, Rehab is Changing For Good
By Dr. Alexander Sah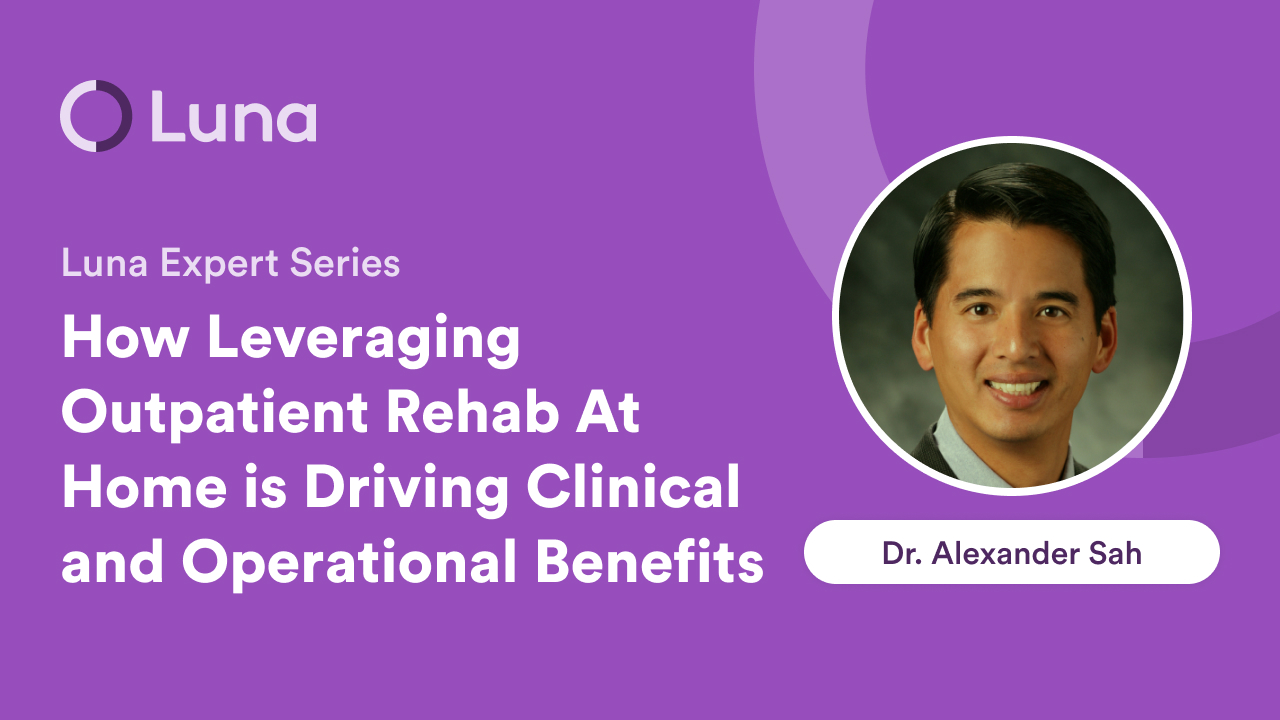 <<<Watch the entire recorded webinar here>>>
As an orthopedic surgeon, I perform about 900 hip and knee replacements each year. While every surgery is challenging, what comes next is often just as challenging, and important, for the patient's recovery. The rehabilitation process helps determine how successful the surgery will be long term, and each patient needs high-quality, easily accessible physical therapy to ensure they get the right care post-op.
Unfortunately, too few people are getting the kind of care they need, resulting in suboptimal outcomes and longer recovery time. There are a few reasons why:
The current post-acute care system is fragmented, with patients getting care across a large number of clinics and health systems.
Many patients never complete their full treatment plan due to the inconvenience of travelling for physical therapy.
The outdated technology that underpins most rehabilitation steps is an often underlooked roadblock that hinders patient progress and slows down care delivery.
As a result, in the current outpatient physical therapy model, these problems of access and fragmented care are the norm. To solve this problem, we need physical therapy that meets people where they are. That's where Luna comes into play.
With Luna at-home, on-demand physical therapy, patients receive the care they need in their home, and surgeons can be sure their patients receive standardized care and complete their treatment plans. Luna was highly recommended to me over a year ago, and I've been recommending it to my patients ever since.
A recent pilot program at my practice reveals the significant potential in Luna to change rehabilitation for good. After tracking more than 60 patients through their treatment plan with Luna, it became clear that at-home, outpatient physical therapy solves the challenges that plague the traditional physical therapy model. I recently discussed how Luna does this on a webinar with the company's Head of Clinical Services, Palak Shah. Here are the highlights:
Fragmented No More
Thanks to Luna, I no longer have to worry when patients leave my practice. Previously, they would receive fragmented care across clinics, health systems, and therapists. With Luna, I am confident that all my patients would receive the same level of quality care, every time, no matter which therapist they see.
This is in large part due to Luna Protocols, a capability that ensures therapists are helping patients meet the standards I've set for their recovery. Additionally, my team is always kept in the loop, and any warning signs are escalated to us in a timely manner. This escalation process is like an umbrella: you hope you won't need it, but you better make sure you do just in case. Luna provides this safety net and standardization of care in a way that just isn't seen at a traditional clinic.
More Convenience, More Improvement
By removing the most significant barriers to care — finding transportation, taking time off work, finding child care, and wasting time in waiting rooms — Luna adds an essential element of convenience that helps patients complete their treatment plan. During the pilot program, nearly 80 percent of patients completed their treatment plan in 14 visits, an astounding 50 percent higher than what is traditionally seen at a clinic.
While completing one's plan is a part of the current problem, seeing actual improvement is quite another. But Luna helps patients feel better, too. In fact, 58 percent of patients in the pilot program saw a clinically significant difference in pain scale in the first 10 sessions, while 76 percent experienced a difference in functional scale during that same time. And importantly, there wasn't a single report of re-admission.
The Technology Behind the Curtain
Technology is in many ways the backbone of seamless rehabilitation. Without it, everything from patient education to scheduling to filing paperwork can be a burden. Luna's app makes it easier for patients to complete their exercises in between visits and allows their therapist to monitor and track their progress. Through the pilot program, it was clear that technology has an essential role to play in supplementing care — but it can't replace it. Patients enjoy the physical touch that comes with in-person therapy, and it allows therapists to show patients how to complete the exercises and work with them to meet their goals.
Putting the Patient First
Rehabilitation professionals are in the customer service business — what patients want is the most important. We have a pivotal role to play to keep patients safe after surgery when they're in a vulnerable state. Luna makes it a whole lot easier.
After the completion of the pilot program, patients completed a survey to help us gauge satisfaction. Every single patient that completed the survey gave Luna two thumbs up and said they'd recommend Luna to a friend.
There's no doubt this is because Luna increases patient adherence, satisfaction, and outcomes — while also delivering a platform that removes the hassle for therapists and providers. Rather than waiting for patients to come to clinics and placing the entire burden for recovery on them, we can make the rehabilitation process easy by meeting them where they are. It's time for health care to evolve to truly put the patient first.