Do the Math: Why Working With Luna Makes Sense
By Luna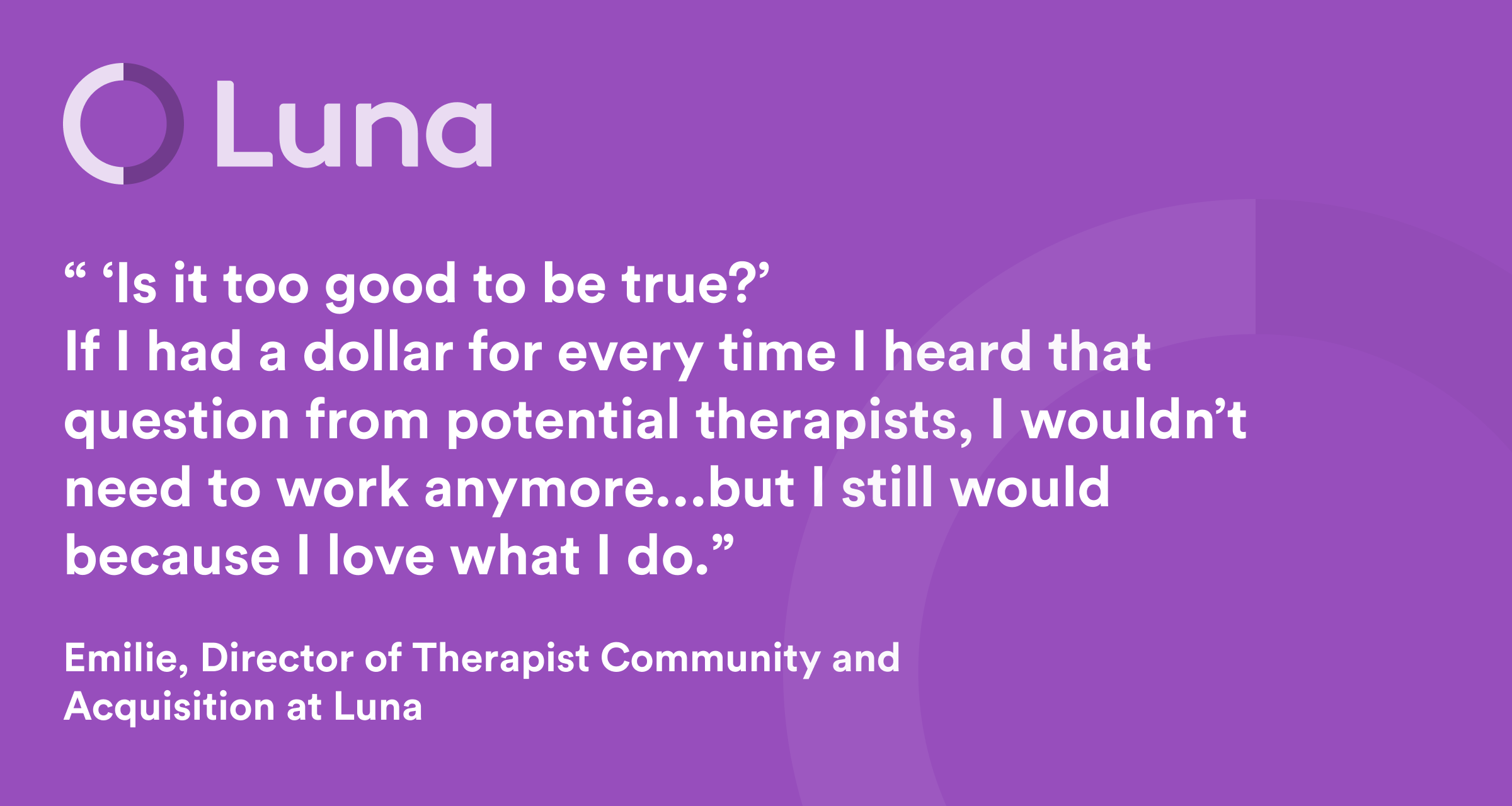 What if there was a way to earn a comfortable living without having to take work home with you?
What if there was a way to provide quality patient care without giving up the quality of your life?
What if there was a way to work as much or as little as you want on your schedule?
Sounds too good to be true? We get that a lot.
If you're reading this, chances are you're like many burnt out physical therapists looking for a better way to meet your career, financial, and life goals. Today, we are breaking down the numbers to help you determine whether working with Luna makes sense for you.
It's Not Too Good to Be True: Here's How It Works
Luna is transforming the physical therapy industry, turning the "what ifs" above into reality for thousands of physical therapists across the country. We support a wide range of income needs to help therapists meet their financial goals. From independent PTs looking for a nice income boost to parents in need of flexible, part-time hours, we support therapists in all walks of life. Many of our PTs started out using the platform for supplemental income and have slowly transitioned to a more full time caseload.
Luna therapists are paid per visit and instantly receive payment after each chart is submitted. Rates are paid on a competitive per visit model (check our income calculator here). Each session is 45-55 minutes in length, and we keep your drive times under 30 minutes. Rather than stressing over manual documentation during your time "away" from work, Luna's Auto-Charting technology helps therapists complete each chart within 3-4 minutes. Time is money, and Luna helps you save a lot of it.
Bonuses Abound with Luna
Luna exists to empower the physical therapist community to support and care for their patients while maximizing flexibility and earning potential to live their best lives. That includes rewarding therapists for all of their hard work through an extensive bonus program. We have a multitude of bonuses available based on visits performed and patients engaged.
Plus, we even have some new and active campaigns to reward therapists with even more...
Newly Launched Patient Waitlist Feature
For every patient you take off Luna's Automated Waitlist, you'll have your name entered into a raffle to receive $1,000. We are giving away $15,000 this quarter. Therapists can win multiple times too!
Referral Bonuses for Introducing Other Therapists to Luna
Every time you refer a physical therapist who signs onto the Luna platform, you'll receive a $500-$1,000 bonus, depending on the market.
Let's Crunch Some Numbers
So, let's say you are just starting out with Luna. You've chosen to take on four patients per week, each requiring two visits per week for a total of eight sessions.

(Market rates vary. We use a mid-range assumption in this analysis.)
Now, let's also say you refer 4 therapists and 10 patients to the Luna platform and win one waitlist raffle.

Now, let's say you're looking for more of a part-time opportunity with Luna. You choose to take on eight patients per week, each requiring two visits per week for a total of 16 sessions. Let's also say you decided to take a month off of work to travel through Thailand for fun.

Let's also say you refer 3 therapists in a high-demand market and 10 patients to the Luna platform and meet two of your quarterly bonuses.

Finally, let's say you want to do 30-35 visits per week on Luna (6-7 visits per day).

Plus referral bonuses and visit bonuses, you could be earning the following:

Then there's always Justin Kwai, who is even earning more…
Beyond the Bonuses: Luna Lifestyle
"Luna has given me the freedom to determine when and how I want to work, which has brought a new meaning to work/life balance for me." - Ricky Yu PT, DPT, OCS
As independent contractors, Luna PTs have the flexibility and independence to work as much or as little as they want when it's convenient for them. They enjoy the autonomy, self-efficacy, and control of being their own boss without the hassles of running their own business. They also get to write off business expenses like phone and internet bills, car mileage, licensures, and more.
So, what will you do with all your extra time and cash? Pay off those student loans? Travel the world? Spend more time with family and friends? That's entirely up to you!
If you're a physical therapist ready to reimagine your career, we want you to join Luna. We're confident that once you experience making meaningful earnings through the exceptional Luna platform, you'll wish you'd joined sooner.