Get to Know Our Therapists: Dr. Justin Kwai PT DPT
Meet Justin: a Luna therapist based in Los Angeles, who provides PT for dancers on the "So You Think You Can Dance" and "World of Dance" TV shows.
By Luna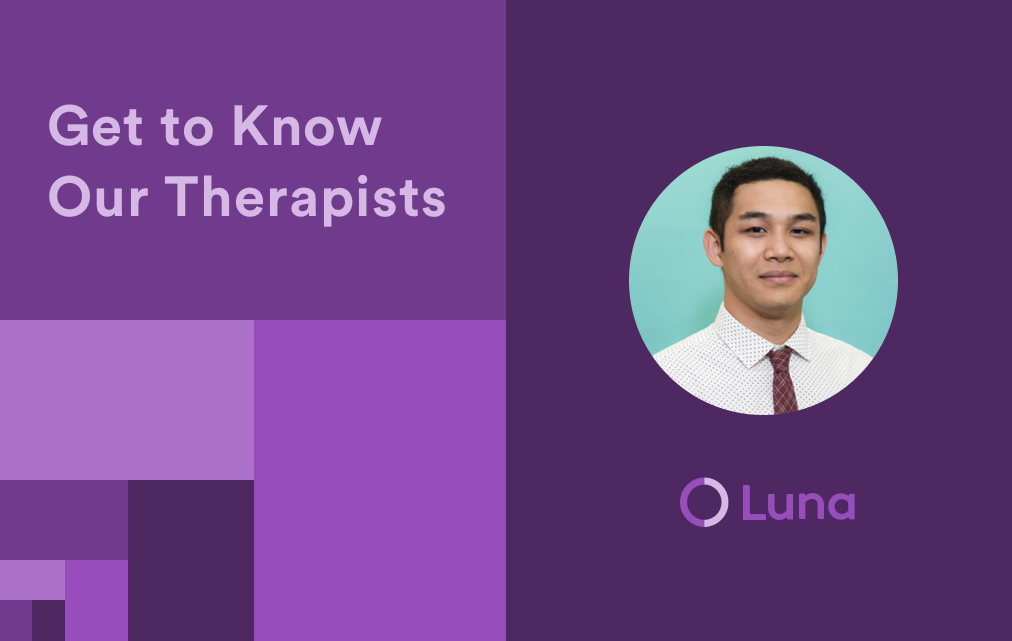 When it comes to physical therapy, Justin Kwai is the man. Even though he grew up on the east coast, he has developed some rather fruitful relationships on the west coast (where he currently resides). His current claim to fame? He exclusively provides all of the physical therapy for the dancers on Fox's "So You Think You Can Dance" and NBC's "World of Dance" TV shows -- something he's had the joy of handling for the last several seasons. Impressive, considering he's lived in LA for only six years. Now that he's part of Luna's team of top-notch therapists, his healing touch is available to you too (if you live in LA!) .
Let's learn more about Justin, his PT journey, and how he fatefully found himself on the receiving end of physical therapy only one short year ago...
East coast -> West coast
Having grown up in New York City, and now living in Los Angeles, Justin is certainly a "city mouse." At a young age, he was big into wrestling and boxing. Those sports gave him his first introduction (and interest) in physical therapy. Later, he went to Boston College, where he studied Communications but also picked up an interest in dancing and quickly became pretty serious about it. He was good and participated in group dance competitions such as Elements Dance Competition, VIBES, Fusion, and World of Dance NYC/Boston. Considering his active hobbies, his desire to work in medicine, and his love for patient care -- it all made physical therapy a perfect, professional fit. He received his Bachelor's degree from Boston College in 2010 and then completed his graduate studies at Rutgers University at Newark, NJ. There he obtained his Doctor of Physical Therapy (DPT) in 2014. Soon after, he moved to California. He settled in LA, where he began practicing physical therapy at a high-volume brick and mortar clinic.
PT on producers has its benefits…
As his reputation and client base grew, Justin became a trusted and popular therapist at the LA-based clinic. His specialties included orthopedics, sports rehabilitation, as well as balance/vestibular rehabilitation. As a semi-pro dancer himself, he discovered a niche where he could offer highly effective physical therapy to dancers who needed to return to ideal performance -- fast. Luckily, he got to treat several LA producers in the high profile entertainment industry. Those connections helped him gain his position as the exclusive physical therapist for dancers on Fox's "So You Think You Can Dance" and NBC's "World of Dance" TV shows. That work also led him to transition from working at the clinic to a concierge-level of PT service. Today, he's part of the Luna team of therapists and loving it.
Why Justin finds PT so rewarding (and magical)
Justin loves helping people and providing the best care for his patients -- no matter who you are, where you're from, or how much you make, it doesn't matter to him. He just wants to help make you well. Justin also likes a good challenge -- especially patients whose doctors have prescribed only pills and rest for their muscular or skeletal injuries. He knows he can better help these people and has successfully done so many times over. One of his most memorable and rewarding cases was a 30-year-old woman who was an avid runner. While out on a run, she had the terrible misfortune of getting hit by a car. The accident fractured her legs in three places and required multiple surgeries. She didn't think she would be able to run again. But amazingly, Justin's therapy regimen had her up and running again in only 10 weeks! It's almost like he performed real-life magic. Yep, as we said, Justin is the man.
Justin truly "gets it" because he was a PT patient too
Justin readily admits that he was exercising too much. It's what led him to have major back surgery last year. After being on a plane for 16 hours, his annoying back pain became excruciating. Relief required surgery -- a lumbar microdiscectomy. His doctor had to remove a portion of his herniated disc to relieve the pressure on his spinal nerve. Justin's recovery and rehabilitation from that surgery had him on disability for two months straight. He admitted that it was a very humbling and eye-opening experience. Now he found himself on the receiving end of PT treatment. He was thankful for the experience because it helped him genuinely understand everything his patients are going through, both physically but emotionally. That experience gives him an empathetic edge for providing top-notch treatment. (By the way, Justin is now fully recovered from that surgery and is back to 100%.)
Why Justin thinks Luna so remarkable
There are many reasons why Justin loves the Luna app. He describes it as being very tech-forward and loves the streamlined communication between doctors, therapists, and patients. The communication dashboard makes it easier for everyone, especially with COVID-19. One of his favorite parts of the app is the algorithm that determines the travel time to a patient's home. It makes his drive time super-efficient. And speaking of efficiency, he also loves how the Luna team handles all the insurance paperwork for him. In fact, paperwork is a thing of the past with Luna. Justin loves how all the intake paperwork is done on the app and online. He doesn't have to physically write anything. All notes are done quickly and efficiently via oral dictation.
A few fun facts about Justin
Justin isn't about all work and no play. On top of everything else, Justin picked up the hobby of running this year. He gave it a try when the pandemic first started. While he's never been a big fan of the sport, he kept up with it and has formed a habit. Beating his previous "bests" for fastest mile and longest runs are his motivators. Another fun fact? Justin loves to cook. You'll probably spot him shopping at some of the wonderful farmer's markets in the LA area. The wide variety of super-fresh produce and other unique foods are a big attractor for him. His signature dish? Mussels and white wine. How ironic that we find him an expert in the 'muscle' department once again!?
If you're in the LA area and need physical therapy, Justin could be your man. After all, he's the man! Contact us today, and you'll be dancing your way to wellness in no time.